Dire Straits by Fausto Canel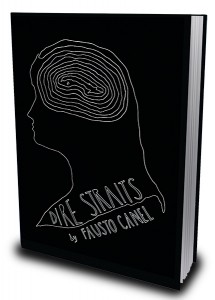 A movie in words.
Hoping to find information on alleged Uranium bootlegging between Cuba and South America, an American reporter flies to the island. To her astonishment, her clues take her through an amazing adventure of love, intrigue, and hope… and the discovery of a frightening terrorist plot against the US.

"In Dire Straits, his latest book, Fausto Canel does a curious experiment: unable to film his script as a movie, he decides to turn his "film" into a novel… Kelly Fitzgerald, the eternal feminine side of Canel, discovers in a trip to Havana a crazy world of police (always the police), crooks, palatial intrigue and international plots. Although the plot and its rhythm are faster and less metaphorical than in his last novel —Ni tiempo para pedir auxilio—, they also have an autobiographical tone that gives the novel/movie a tremendous dramatic strength."

Orlando Jiménez-Leal, cinematographer.
"Dire Straits", book written by Fausto Canel to exhibit a suspense movie he couldn't film and that would have had the US and Cuba as backdrops…
…it's not only interesting because of the story he tells but also the way this story is told, scene by scene, and because of the writing, who's urgency is that of the best action movies and where, I insist, the final impression is not of having read something but having seen and heard it all: dialogues, shots, explosions…"  

Orlando Gonzalez Esteva, poet/writer.